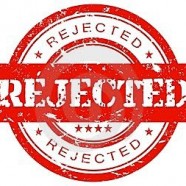 Jun

10
3 comments
Categories
Share This
Yet another Encouraging Piece about Rejection
Today's post is by The Quotable contributor, Paul Weidknecht, whose story "The Work of Living" appears in Issue 9: "Night and Day."
Most rejection articles rehash the same lugubrious tales of futility and injustice, stories of personal pains set against backdrops of unappreciated toil—well, this piece is no different. But misery loves company, and reminders are good, and no matter how many times we've heard others depressed accounts, we can sometimes still feel that what is happening to us is unique. As discouraging as they are, rejections can be used to fuel better writing, or at least, to keep us from becoming full of ourselves.
So here are four observations I re-access when I feel particularly weary of that auto-email snub that begins Dear Paul Weidknecht, Thank you for sending us…
The evaluation of art is subjective; refuse to let someone's negative opinion be the final declaration about your ability—
Every writer should know that no one owns the golden unerring opinion on the value of a piece of writing. This might seem obvious, but as email rejections occupy gigabytes of space on our computers and letter carriers slip spinal discs lugging our rejection correspondence, it is easy to become discouraged and doubtful, wondering if each editor sees the same fatal flaw in our work. Rejections must be viewed as opportunities for us to hone our craft, define our markets, or send out more work, perhaps all three.
2. The evaluation of art is subjective; refuse to let your positive opinion be the final declaration about your ability—
Writers possess egos—why else would we think people want to read our transcribed thoughts? An unhealthy admiration for our work stifles growth. Examine it with a critical eye. Read it aloud. Let trustworthy people read and comment on it. Listen to their opinions. Years ago while at a writer's conference, I heard of an attendee who had been workshopping a story for ten years. I'm not sure if the rumor had any basis in fact, but if true, I have a match and can of lighter fluid he should borrow, quickly.
3. While the act of writing is entirely fair, and publication remains only partially fair, perseverance reconciles the two—
Here is a list of numbers: 7, 29, 21, 2, 20, 5, 35, 28, 12, and 55. What do they mean? These are the number of rejections ten of my stories garnered before each was eventually published. Often there can be little logic in what gets published and what goes through the shredder. Yes, that terrible poem won thousands in a contest and your masterpiece didn't crack the longlist. Yes, that editor published her friend and not you. Yes, that editor hates female-narrated pieces. You're allowed to be frustrated, as long as it doesn't stop your work. Don't be jealous, work harder. So says an old sales adage: if you don't like your income, see more people. There is one more yes of which to be aware—Yes, the editor can be correct. That happens too.
4. Make someone want to read one of your sentences over again because it is too good to experience just once—
For all the talk of numbers and inequity, remember that your work is art, something you created. Whether short and sudden or meandering and evocative, sentences should be hand-crafted, with thoughtfulness as the primary ingredient. Using the correct words in their proper order to deliver the most potent effect on the reader may be the clarion call of the writer. Long before meeting your characters or following your plot, the editor will read your string of words. Make the editor's face go slack upon reaching the period, with the next thought, This person can write. This is a player. As writers, we might not always get there, and the work is hard, but we're allowed the pursuit, and in this business, that's pretty fair.