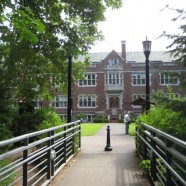 Aug

13
5 comments
Categories
Share This
What I Learned from Attending The Tin House Writing Conference
I attended the
Tin House Writing Workshop
at Reed College in Portland, OR July 10-17. These are some of my impressions and lessons learned from the workshop.
There are Conferences All Over the Country
Probably you already knew this. Most everyone at the conferences did, and I admit, I knew of some in the Hampton Roads Virginia Area, where I'm located. Including the upcoming Hampton Roads Writer's Conference, Sept. 22-24 — The Quotable will be there, so if you see us peddling magazines, be sure to stop and say "Hi!"
But there are tons, everywhere, and writers, if you get a chance, and if you're looking to get involved in the writing business, or broaden your writing community, I recommend you check them out. I heard great things at the conference about Taos Summer Writers' Conference and Aspen Writer's Foundation's Summer and Winter Writing Festivals. These are great places to learn about the craft and business of writing from new and established working writers, both. The advice I received again, and again, on choosing which conference to go to next, was to go where my favorite writers are. If there's an author who's book you adore, or you saw speaking and just thought they were exceptional – go there. You can find a list of conferences broken-down by state on The New Pages Website.
Take the Time to Learn Your Craft
This is what I heard over and over again from editors, writers, and agents at the conference: the biggest mistake young writers make is sending out stories/manuscripts that aren't finished. Writing takes a lot of patience and hard work, but if you're willing to put in the hours, and really work to polish your manuscripts, your chances of getting published, especially when you get to the professional level, will be so much greater.
I realized while I was there, that I had been given some bad advice before, I was told that if you received an invitation from an editor or agent to submit again, that you should do so immediately. The editors at the conference encouraged writers to wait, consider any comments they may have gotten and submit again when they're ready.
I think when you're out there writing on your own it is hard to neglect that sense of urgency – you have something to say and you need to say it. But sit on your manuscript for a while, read it out loud, have your most literate friends give it a read, and polish, polish, polish, until you see it shine. Then send it out with a lovely, thoughtful cover letter. You'll still probably get some rejection letters — let's be realistic, everyone does — but at least you'll have a better shot at getting some acceptances.
Submit to the Magazines Where You Want to be Published
What company do you want your story to keep? This goes back to honing your craft and taking time in submissions. Do the research, read the magazine. Find the ones that publish what you want to read, that you want to be a part of. This should be obvious, but sometimes, there just seems to be so many markets and so much competition that it's easy to loose sight of what you really want to achieve as a writer, which brings me to my next point:
Motivation
My workshop leader, Dorothy Allison, gave us some great advice, she told us to "write your National Book Award speech." Think about what you're trying to accomplish, what you want your readers to feel or know after reading your story/novel. It doesn't necessarily have to be profound, but the author's motivation is as essential to a story as the characters', and if the author is unaware of his or her motivation, the reader may end up confused or unfulfilled, same as if the main character has unclear motivation.
I'm still working on my speech, but at least I'm thinking about it.
Be a Good Literary Citizen
This is a phrase I heard constantly at the conference. Maybe it was just because it was hosted by a magazine, and they wanted you to buy all the issues they had for sale, but it really makes a lot of sense. We're writers and readers, and if we want there to be independent booksellers and literary magazines and publishers in the future able to publish our work and pay writers, than we need to support the places that are trying to do just that. Subscribe to the magazines you like to read, buy books, buy from bookstores you like to go to. It's up to us, the people who produce and consume literature to ensure that literature has a sustainable future.