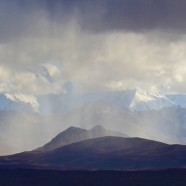 Aug

14
11 comments
Categories
Share This
It's all Music
Today's blog post is by Penny Harter, author of the poem "The Resonance Around Us" in Issue 10 of 
The Quotable
, 
out today. Find more of Penny Hart's work on her blog and website: 
www.2hweb.net/penhart
penhart.wordpress.com
I wrote "The Resonance Around Us, " my poem in Issue 10 of The Quotable, during January, 2011, while enjoying a two-week residency at Virginia Center for the Creative Arts. VCCA is a magical place, and sometimes the universe delivers just the right muse at the right time. In my assigned studio, there were several journals, magazines, and books left over from some previous occupant or other.I had been writing a poem every day during my time there, and one day, before settling in to see what my muse was going to deliver, I idly picked up a copy of The New Yorker from 2008. Paging through it, I came to a piece on the composer John Luther Adams by Alex Ross. While writing this post, I searched for the article on line, and to my delight, just found a link to it. Enjoy!
It begins:
"On a recent trip to the Alaskan interior, I didn't get to see the aurora borealis, but I did, in a way, hear it. At the Museum of the North, on the grounds of the University of Alaska in Fairbanks, the composer John Luther Adams has created a sound-and-light installation called "The Place Where You Go to Listen"—a kind of infinite musical work that is controlled by natural events occurring in real time. The title refers to Naalagiagvik, a place on the coast of the Arctic Ocean where, according to legend, a spiritually attuned Inupiaq woman went to hear the voices of birds, whales, and unseen things around her. In keeping with that magical idea, the mechanism of "The Place" translates raw data into music: information from seismological, meteorological, and geomagnetic stations in various parts of Alaska is fed into a computer and transformed into an intricate, vibrantly colored field of electronic sound."
Adams' "translating" the sounds of the Earth, and the Inupiaq woman hearing "the voices of . . . unseen things around her" fascinated me! It was winter in Amherst, and it had lightly snowed the night before. I have always felt that all things are interconnected, and after reading the article, that sunset as I headed across the grounds back up to the residence building for supper, I listened to the music of everything: the wind, the rustling of branches, the crunch of my footsteps on frozen grass, the sky, itself. And the poem blossomed in my mind. Everything resonates at its own frequency, and it's all music.
Someday I hope to get to "The Place" in Alaska. Meanwhile, you can find CDs of Adams' music—many of whose titles are poems in themselves. He has also written a number of books. Besides reading The New Yorker article, if you google his name, you'll find much more. I'm grateful to VCCA for its magic, and for Ross's piece about Adams' work; both inspired me not only to write the poem but also to purchase several of his books and CDs, which inspire me further. So I encourage you to go outside, listen, and see what blossoms for you.