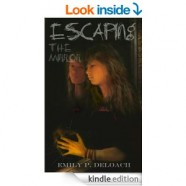 May

21
10 comments
Categories
Share This
The Therapeutic Power of Writing
Today's guest post comes from author, Emily DeLoach. Her first novel, 
Escaping the Mirror
, is now available on Amazon.com.
When people ask me what inspired me to write my first novel, Escaping the Mirror, I tell them I've had the idea for this novel since I was a teenager.  What I don't tell them is that the characters were once my lifeline, a source of comfort, an escape.  In all truth, their story was a form of therapy for me.
Thankfully, I didn't grow up in a home like the one my main character, Evil, was forced to live in.  She was abandoned by her mother and physically and sexually abused by her father, while I had very loving and supportive parents.  However, I did experience trauma when I was raped at the age of fourteen.  Being a virgin at the time, this was my introduction into the world of sex, and it was followed by a series of unwanted sexual experiences.  This impacted me severely: I was clinically, deeply depressed for two years, hospitalized twice.  But somehow, I couldn't connect what had happened to me with the pain and rage I was experiencing.
I started to develop characters in my mind as both a way of escape and a channel for my emotions.  I could identify with Evil's situation, even though on the surface it was different from mine, and as I made up all kinds of elaborate stories involving these characters, I was able to express my pain without admitting to myself that it was my own.  It helped me to process my feelings when I wasn't yet ready to face what had happened to me.
I thought of these characters so much, I felt that I knew them inside and out–much better than I knew most real people.  I tried writing about them many times and always felt frustrated at my inability to truly capture who they were.  Years later, as an adult, when I decided to devote more time and effort to writing, I kept coming back to them–or rather, it seemed, they kept coming back to me.  I had a strong desire to give them a voice, because it was, in truth, my voice.
As Julia Cameron wrote, "Art acknowledges that feelings are mutable and that we contain the power to mutate the dross of our wounds into the ore of art.  In this sense, art gives us the ability to always move out of the victim position."  Thanks to writing, I am no longer a victim.  I am the creator of work that I hope will be a source of comfort for some, an evoker of empathy and compassion for others.  My pain has been transformed into something good, and to me, that is a beautiful thing.
*As a promotion with Kindle, *Escaping the Mirror is available for free now through May 24, 2014.