The Next Big Thing Interview Series: Tasha Cotter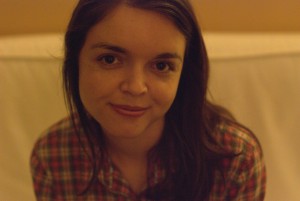 Thank you,
Anne Champion
for tagging me for the Next Big Thing Interview Series! Her book will be released in February 2013 with Gold Wake Press. Read below to learn more about my forthcoming book of poetry,
Some Churches
, which will be released in 2014 with Gold Wake Press. A small chapbook of my work will be released this March with Finishing Line Press.
What is the working title of the book?
Some Churches
Where did the idea come from for the book?
The book just sort of evolved, really, from my MFA poetry thesis. Growing up in rural Kentucky I always wanted to be a writer and after writing a ton of crap in college I started to get better. I began to steadily link the work I was producing into a collection that made sense. For a long time I struggled with ordering the collection, but then I finally got to a point where I could see a definite beginning and ending. I knew I was getting close.
What genre does your book fall under?
Poetry
What actors would you choose to play the part of your characters in a movie rendition?
Some Churches is about the people we choose to be in our lives falling out of our lives and the lasting impression some people (some churches) make on us. This is a book with a big cast. Any couple in America. Any American family, but I would say the speaker is distinctly female, sort of narrating the whole thing, occasionally asking big questions in an oblique kind way about how a person should be in this world and how we're supposed to decide what matters and what doesn't. I like to think that anyone could see themselves playing a part in this book.
What is the one sentence synopsis of your book?
A philosophical mind-trip through sentimentality with a guide who's one part cynic and two parts unrepentant romantic, desperate for answers she'll never get.
How long did it take you to write the first draft of the manuscript?
Some of these poems I've been working on for years, others several months. I would say I'd been actively trying to form a book-length collection for about two years when it got accepted for publication.
Who or what inspired you to write this book?
Wanting to be a better writer inspired it. I've always gravitated to poetry, even though I now write fiction, too. Messy relationships inspire me, historical figures like Frida Kahlo inspire me and so do the places I've lived in: Paris, Chicago, and Colorado. My mentor Nikky Finney taught me to look outward for ways to enrich my work. I try to do that, but I'm always keenly aware of when something on the outside resonates with an emotional truth. That's when I know I may have a poem on my hands and I work to reconcile the two things. Travel always seems to kickstart something in my brain. I think it's that feeling of motion and being in a new landscape. It feels like a trigger goes off whenever I'm faced with a new place or a completely new experience. Somehow being on the move opens the door for new connections between me and the page.
What else about your book might pique the reader's interest?
I've always been in love with prose poetry, so there's some of that in this collection as well. Growing up I loved Baudelaire and David Lehman. Nowadays I read a lot of Lydia Davis, Sarah Manguso and Anne Carson. Alice Munro, too, is a writer I deeply admire for all the obvious reasons. I love that valley between prose and poetry where you can blend the best tools in poetry with a narrative momentum that builds into something really polished and deeply poetic. I love working on that edge and seeing what I can pull off.
Will your book be self-published or represented by an agency?
My book Some Churches will be published in 2014 with Gold Wake Press. Some of these poems will be released this March with Finishing Line Press in a chapbook titled, That Bird Your Heart.
My tagged writers for next Wednesday are: