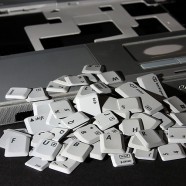 Jan

17
2 comments
Categories
Share This
The Key to Writing
Today's guest post is by The Quotable contributor Chris Baird. His artwork will appear in Issue 8:Storytelling.
The key to writing is writing.  No one wants to hear that.  Everyone wants to think there's some kind of magic trick.  It's like how everyone wants to lose weight – but without eating any less or exercising any more.  Well, there's no pill for that, and there's no pill for writing either.  Your fingers actually have to press the keys at some point.
But I will tell you a secret – finishing is the key.  Everyone writes.  Everyone has a half-finished masterpiece crawling around their brain – but only the people who finish things can prove that they are writers.  When I was starting out, I'd start a new story every time I got bored of my old ones.  After awhile, I got good and sick of this.  I asked myself, "What is the SHORTEST story that I could actually finish?"  I decided that I could probably finish a story that was one page long.
Turns out, I was right.  I wrote a one-page story.  And then I wrote another.  And then I wrote a three-page story, and a five-page one.  Before I knew it, I was a writer.  When people ask me what I do at parties, I can shove the evidence of my brilliance into their unwilling hands and say "I'm a writer!"  It may not pay the bills, but it's the truth.  And it feels a lot better than having "a bunch of awesome ideas" that have the slight problem of not existing.
The key to writing is writing.  No excuses.