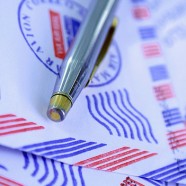 Jun

21
7 comments
Categories
Share This
Send it out Already! (A Guide to Submitting Your Work)
About six months ago my husband decided to take a writing class (he can be impressionable – in a good way – and I had dragged him to so many readings and writer's events that he was bound to spark an interest sooner or later). I was a little nervous at first, since finishing his master's thesis, I haven't seen him sit down to write so much as a Thank You card, but I encouraged him. After some hemming and hawing at his first assignment, he eventually grew to love the class, and produced some good stories. He thrives on encouragement, and now that his class is over he asked me if I thought his stories would be publishable.
"Of course," I said. "They're well-written with form and structure, there's no reason you can't send them out."
But he didn't want to send them out, he wanted me to send them out for him. "I wouldn't know where to start with this, and you know so much about it already."
Yeah, nice try. The fact is, the submissions processes is part of writing, and everyone has to go through it for themselves, and everyone has their own style. I promised to give him some pointers, and as I thought about it, I realized everyone could use some pointers.
1. Expect Rejection
Submitting can be more intimidating than writing itself. Everyone likes to think of themselves as a literary genius (or is that just me?), and submitting jeopardizes the delusion, because you will be rejected. Everyone is, accept it. Sometimes you hear a story about some literary genius whose first story ever submitted was accepted to the most prestigious magazine ever. Don't believe it, it's an Urban Myth. Most writers receive 50-60 rejections before they're published. A writing teacher once told me, "If you're not getting a rejection a week, then you're not working hard enough." This was an MFA Candidate at The Iowa Writer's Workshop. If you expect rejection, then it will make the moment when you are accepted all the more rewarding.
2. How to write a Cover Letter
A lot of my writer friends get hung up on the details of submitting. It might be easy for you to write a story, but when it comes to a cover letter, you don't even know where to begin. When I first started submitting stories, I wrote four cover letters:  Multiple Email/Online Submissions, Single Email/Online Submissions, Multiple Mail Submissions, and Single Mail Submissions. When I go to submit, I plug-in the title of my story and the Magazine, but having my Cover Letter template saved to my desktop saves me a lot of time, and gives me more time to review the publication. As I learned more about submitting, and as I began to accumulate publishing credits, I edited them, but the format stayed mostly the same. Here is an example of one of my first Cover Letters:
Address
Email
Phone #
Date
Fiction Editor
Arch Literary Journal
To Whom It May Concern:
Attached please find one story, "Where the Trolls Live." I have submitted this work to other publications and will let you know immediately if it is accepted elsewhere.
By day a mild-mannered background investigator protecting our nation's nuclear power industry from temporary terrorists and too frequent drunk drivers.  By night and lunch breaks, a fierce writer of fiction, and occasional non-fiction.  I live in Virginia with a husband and a brood of imaginary children.
Thank you for your time and consideration.
Sincerely,
Eimile Denizer
The most important things to include in a cover letter are contact information, the name of the story you're submitting, and whether or not it's a simultaneous submission. I like to include a short bio, some publications ask for it up front, some will ask for it upon acceptance of publication, but it never hurts to include it in your cover letter. If you can find a name of an editor, it's good to address your cover letter to a specific person, even if someone else ends up reading your story, it will show you've done your homework.
3. Do Your Homework!
There's no excuse not to read each publication's guidelines and read through an issue or two to get a feel for what they're looking for. At The Quotable we won't read a submission if it's clear the author hasn't read the guidelines, and frankly, I don't know a single publication that will. It's just discourteous.
4. Simultaneous Submissions
There aren't many magazines out there that don't accept simultaneous submissions; if you want to increase your chances of acceptance, you want to submit to as many places as possible. Especially when you're first getting started. Check the guidelines to make sure the publication accepts simultaneous submissions, and indicate that you have submitted your story elsewhere in your cover letter. Now, you'll have to keep track of where you've submitted; I've heard of websites that do this for you, I know Duotrope does, but I prefer a good, old-fashioned spreadsheet. Whatever works for you. Once you have an organized way of tracking your submissions, you can send your story to as many places as you want. If you have your heart set on a particular publication, you may want to wait until they respond before you submit elsewhere, just remember that the larger and more prestigious the magazine, the more submissions they receive, and the longer it takes for them to respond.
5. How to Find Places to Submit
There are lots of resources to find publications looking for submissions. I like Duotrope because you can just plug-in your specifications and it will give you a list of all the magazines currently accepting submissions. But also check out New Pages, Lit List, The Writer's Market, and The Creative Writers Opportunities List will even email you notifications as magazines open for publication.
6. Don't Get Discouraged
It's easy to get down after your first ten or twenty rejections, but remember my first point – everyone gets rejected. It's part of the process. Keep at it, and remember, if you don't submit, then your story will never be published anyway.