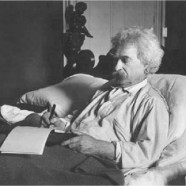 Jan

21
1 comment
Categories
Share This
Resting on the Page
Today's post comes from The Quotable contributor Elisabeth Oliver. Her short story "Story Night" appears in Issue 8: Storytelling.
I can't be the only writer whose desire to write is rivaled only by my resistance to the task. But for me resistance is a four-letter word spelled R-E-S-T.
I wake up with my cheek pressed against my open notebook, disoriented. I've been sleeping. There's a spot of drool pooling on the page, blurring the words "over" and "there" together into an inky swirl. I dab at the page with a tissue then get up to splash some water on my face. In the bathroom mirror, a handwritten line from the story I'm drafting is clearly legible on my face, imprinted on my skin over the course of my nap. Somehow I doubt this is what Julia Cameron meant in The Artist's Way when she said that writing should feel like "resting on the page."
When I made the choice to write-every-day-no-matter-what I expected to face some difficulties. Like most writers, I work at other things to keep the heat flowing through the radiators and the wolf from the door. On any given day I deal with snowstorms, dead car batteries and the recurring question of what to eat for dinner. And, like most humans I get tired, overwhelmed and busy with other things. It's hard to find the time, energy, and will. I knew that; I was prepared for this. What I wasn't prepared for was the sleepiness.
It seems not to matter these days if I am busy with other things or have weeks of free time. I sit down to write and I feel the warm weight of sleepiness press heavy against my eyelids. I hear the siren song of the nap calling for me to step off the deck of the waking world to sink down into the murky depths of unconsciousness. Taking it public doesn't seem to help much; I've fallen asleep after a cup of strong coffee, sitting upright in a busy café. I woke to the worried glances of strangers who, I imagine, were moments away from rifling through my bag for a number to call.
Looking for some justification that my involuntary napping is justifiable, maybe even essential to the craft of writing, I went looking for literary precedents. It turns out there are plenty.
Mark Twain is probably the most vocal and proudest for having written in bed. There's no sheepishness in it for Twain. "Just try it in bed sometime," he told the New York Times, "I sit up with a pipe in my mouth and a board on my knees and scribble away. Thinking is easy work, and there isn't much labor in moving your fingers sufficiently to get the words down."[i] O.k., yes, I tell myself, but he still managed to sit upright and he uses the word easy, which I find charming, but suspicious. Maya Angelou is another one. When she gets ready to write a book she rents a hotel room where she lies on her side in bed, writing longhand and sipping sherry.[ii] Sounds nice, doesn't it? And then there's Charles Simic, who just last year admitted to writing in bed. "I lie in a chaos of tangled sheets and covers," he said, "pages of notes and abandoned drafts, books I need to consult and parts of my anatomy in various stages of undress."[iii] Now this is more like it.
It helps to know I'm not the only one who writes in bed, but who has trouble actually staying awake? Also helping me through this long resistance phase is a simple appreciation for my own effort, even if this is only 10 minutes of sleepy scrawl before bed. I have simply refused to put down my pen in the face of resistance, and I've the ink stains on my sheets to prove it.
Any other sleepy scribblers out there? Let us know.