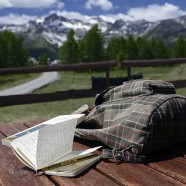 Jan

04
3 comments
Categories
Share This
Places to Take Your Writing to the Next Level
Guest post by Tasha Cotter.
A change of scenery can be just what you need to give you a new perspective on your work. Making a point to attend workshops, readings, and writing conferences can be extraordinarily valuable, no matter where you are with your work. Whether you're starting work on a novel, ready to begin a third draft, or looking to get feedback on finished work, sometimes hearing what other writers and professionals have to say on the subject can be just what you need to get that project where it needs to be. Over the years I've attended many events that have proved invaluable to my writing. I've listened to speakers about how to make my characters memorable, I've taken notes on how to query an agent, and I've made dozens of contacts with writers who have opened doors for me that I didn't know existed—and all this has transformed my writing career. Here are a few opportunities that I think should be on every writer's radar:
1)    The Carnegie Center Books-in-Progress Conference.  Nestled in the heart of the Bluegrass, this is a conference that provides an array of craft talks, lectures, and pitch sessions. In 2012 the conference drew writers and industry professionals from far and wide: Chuck Sambuchino from Writer's Digest, novelist Barbara Kingsolver, A.J. Verdelle, and top literary agents. Registration costs little (under $300 for the two-day conference). Because there is a cap on admission (register early!) the experience feels more personalized than larger conferences I've attended. For more information visit: http://carnegiecenterlex.org/
2)    Fine Arts Work Center in Provincetown. Founded in 1968, the Work Center housed in Massachusetts is open to emerging fiction writers and poets. Chosen fellows are given space and a living stipend and are expected to focus on their work. Competition is keen, however, and applicants are judged solely on the caliber of their work. Many participants have gone on to distinguished careers in the arts, winning top prizes in their fields. If you're looking to get away for an immersive experience, why not apply? http://www.fawc.org/index.php
3)    Wisconsin Post-Graduate Fellowship. If you're a poet or fiction writer who's working on a first book, this is the place for you. Each year, the University of Wisconsin awards seven year-long fellowships to emerging writers. The program's website states, "Each of these fellowships carries with it a $27,000 stipend, generous health benefits, and a one-course-per-semester teaching assignment in intermediate or advanced undergraduate creative writing." Applications are due in February. http://www.creativewriting.wisc.edu/fellowships.html
4)    Vermont Studio Center. Tucked away in the tiny, picturesque town of Johnson, Vermont, is one of the most widely recognized writing residency programs in the United States. The Vermont Studio Center is open to a wide array of art forms—whether you're a poet, nonfiction writer, or a novelist, this is a great place to spend 4-12 weeks on your work. Admittance is based on the quality of your work (a panel of professionals in each field judges applications). Unlike many such residency programs, VSC offers several scholarships and fellowships, so that any applicant of significant talent has the chance to attend. According to the website, applicants are encouraged to submit their applications early–six months before they hope to complete a residency. http://www.vermontstudiocenter.org/
5)    Pikes Peak Writers Center. Nestled in the Rocky Mountains, this conference is one of the best kept secrets in the publishing world. Based in Colorado Springs, the conference always manages to bring together an outstanding blend of agents, editors and writers. In recent years, the conference has welcomed agent-extraordinaire Donald Maass, editor Lisa Rector, and novelist Kelly Armstrong. There's a variety of panels you can attend that span many genres. Although the conference is only a weekend affair, you'll leave bursting with ideas, tips, and advice on how to make your writing stronger, how to pitch your work to industry professionals, and an understanding of how to get the attention of agents and editors. http://pikespeakwriters.com/index.html
Whether you have two days to spare, or two weeks, consider stepping away from the desk to get a fresh take on the industry. Frequently it's a conversation with another writer or editor that manages to clarify an idea I've been wrestling with in my own work and it's always a good idea to know what's being published and to be familiar with your fellow writers. Besides giving you new ideas, conferences and residencies allow you to make important contacts with other writers, agents, and editors—all of which can be deeply important to getting your work in front of the public. Attending an event can also force you to talk about your work with others, which forces you to think about just what you're writing (are themes emerging you hadn't been aware of? Is your supposed genre something different from what you thought?) At any rate, you begin learning how to talk about your work to industry professionals, which could be just the ticket you need get your work noticed in the first place.
image 

Angelo Amboldi via Compfight