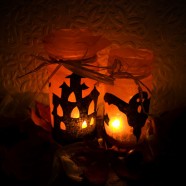 Oct

08
5 comments
Categories
Share This
October Writing Prompt Contest
Congratulations to M. Walter Blackstone, the winner of our quarterly drawing!  He has won a print copy of our Fall 2012 Issue: Feast or Famine.  
Congratulations also to Armelandliz, our September Writing Prompt Contest Winner!
September is the new January, now that the weather's really fucked and we're at its mercy. Kids start their year trudging across the snow-filled tundra to school, and when they sit at their desk their copy books are not damp but frozen stiff. They shiver in their too-large uniforms, and dream of sunny Christmases to come, of New-Year tans and last minute water fights before starting on their good resolutions. What in-my-day stories they'll tell, these children of the greenhouse Earth!
The October Writing Prompt is:
"Where there is no imagination, there is no horror."  ~ Sir Arthur Conan
The deadline for posting an entry and voting is October 31, 2012.  
The rules: Write a micro story of 100 words or less based on the prompt as a comment to this post.  You may enter as many times as you like.
Each post will have a thumb button to the right of it.  One click equals one vote, and only one vote is allowed per computer.  So have your family, friends, co-workers, the nice barista from your local coffee shop, log on and vote for your story.  In the event of a tie, the editors will vote for a winner.
Contest winners will be entered to win a free print copy of our Winter 2013 Issue: Storytelling in January, and winning entries will be archived on our website. (Please be sure to include your email when you post your entry)
*All of our writing prompt winning entries will be included in our Summer 2013 Issue.  
Good Luck and Happy Writing!
photo courtesy of  Petr Kratochvil