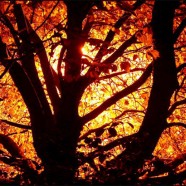 Nov

02
4 comments
Categories
Share This
November Writing Prompt Contest
Congratulations to our October Writing Prompt Contest Winner!
Chrissy718
"Something wicked this way comes." As soon as the words tumbled from his mouth, the lights flickered. Gina, becoming annoyed at yet another of Robert's dramatic schemes to frighten her, warned him to stop. "I've had enough. Take me home, Robert. Please." She turned to leave, and a blast of cold air swept past her legs. It swirled through the room, churning papers that were scattered about into a frenzied whirlwind. As the door slammed shut, Gina gasped and stepped backwards. Her scream echoed throughout the darkened house as Robert's hands reached out to seize her.
The November Writing Prompt is:
Autumn's touch (please keeps entries PG-13 or under)
The deadline for posting an entry is November 23, 2011. The deadline for voting is November 30, 2011.
The rules: Write a micro story of 100 words or less based on the prompt as a comment to this post. You may enter as many times as you like.
Each post will have a thumb button to the right of it. One click equals one vote, and only one vote is allowed per computer. So have your family, friends, co-workers, the nice barista from your local coffee shop, log on and vote for your story.
Contest winners will be entered to win a free print copy of our Winter Issue: Beginnings and Endings in January, and winning entries will be archived on our website. (Please be sure to include your email when you post your entry)
Good Luck and Happy Writing!