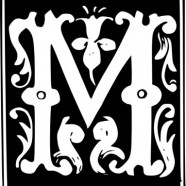 Apr

29
1 comment
Categories
Share This
M/moment
Today's post is by The Quotable contributor, Marian Kaplun Shapiro, whose poem "Around here, March" will appear in Issue 9: "Night and Day".
I'm a poet of the moment. That is, if I have a M/moment, I snatch it. M represents the Muse of inspiration; its lower case sibling a minute or, if lucky, minutes in which to write.
Like most people, I have a full life – work (as a psychologist), friends, a house with things that always need fixing, zingy academic husband (with lots of interests and activities that involve me), adult children and grandchildren…. A M/moment can appear at – well – any moment, unbidden. If she were bidden, in fact, she would not appear at all.
Lines, words, ideas rise up, I've noticed, from trance-like states, such as during Quaker Meeting, while driving a familiar route which takes little concentration, while waitingwaitingwaiting in airports, on airplanes, on trains, in coffee shops for friends who are late. Retirement dinners for my spouse's colleagues seem especially to create such hypnotic states. Daydreaming, you might call it. And nightdreaming too, of course. At best, these Moments are blessings. Sometimes embarrassing – Sorry, what did you say? Or – downright dangerous! Definitely not a good idea to drive and write at the same time.
So here's my Basic Rule of Poetic Life: Never take a chance on losing a good word, line, image, or idea. Never! Protect it as you would your most precious diamond, the one you never could replace because it was given to you by your Great Aunt Sylvie whom you loved the most.
Carry paper – receipts, scraps – and pens everywhere; they won't run out of batteries, and the pilot won't prohibit you from using them during takeoff and landing. A lipstick or an eyebrow pencil can serve in an emergency.
Install Bluetooth in your car so you can call your inspiration to your home answering machine, hands free. At the retirement dinner, if you can't manage a graceful under-the-table maneuver, go to the bathroom. In the nighttime, if you awaken with a Moment, make use of a lighted pen.  Later, enter it in your gizmo for backup. I have never regretted a Moment, never torn one up with an Ohmygod-what-was-I-thinking reaction.
Only the thought that these gifts, from wherever they came,  could have been lost left me with the horrors. Lots of time later for the days/weeks/years of development and revision. But without the Moment, there will be nothing to work with. Long may She reign!