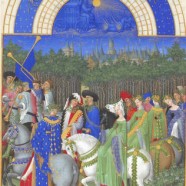 May

01
3 comments
Categories
Share This
May Writing Prompt Contest
Congratulations to Alicia Dekker, our April Writing Prompt Contest Winner!
The joke's on you, Miss. Taylor, thinking you could outwit seven year-olds. You, with your fresh degree and trim, pressed pantsuits.
If you had asked us, in the teacher's lounge, we would have told you. But, no, you are so clever, with your cutting-edge and state-of-the-art. We only have experience.
But thanks for the chuckle, anyway. Those crying children, sad to see, but sweet, also—offering to share sandwiches from home with lunchless friends, after you told them the cafeteria burned down. How they stared, uncomprehending, at your words, "April Fools!"
Children believe, Miss Taylor. But, you will learn.
The May Writing Prompt is:
May Day
The deadline for posting an entry is May 24, 2011.  The deadline for voting is May 31, 2011.
The rules: Write a micro story of 100 words or less based on the prompt as a comment to this post.  You may enter as many times as you like.
Each post will have a thumb button to the right of it.  One click equals one vote, and only one vote is allowed per computer.  So have your family, friends, co-workers, the nice barista from your local coffee shop, log on and vote for your story.
Contest winners will be entered to win a free print copy of our first issue in April and winning entries will be archived on our website.
Good Luck and Happy Writing!