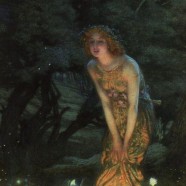 Jul

02
8 comments
Categories
Share This
July Writing Prompt Contest
Congratulations to Yulia Fedorov, our June Writing Prompt Contest Winner!
Yulia is also the winner of our quarterly drawing, and has won a print copy of our Summer Issue: Escape.
Summer is my newborn child, whom I adore! Her eyes a rich shade of blue, like a sky devoid of clouds; her downy golden hair, so soft to the touch; her symmetrical face, round and chubby… I spend hours caring for her, with the love and devotion every child deserves. At day, I watch her play with her toys, and listen to her giggles and childish blubbering; at night, I sing lullabies to put her to sleep. I know that someday, she will grow up to become a fine woman. Summer is my future, my destiny. Summer is my baby.
The July Writing Prompt is:
Midsummer Nights
The deadline for posting an entry and is July 24, 2011.  The deadline for voting is July 31, 2011.
The rules: Write a micro story of 100 words or less based on the prompt as a comment to this post.  You may enter as many times as you like.
Each post will have a thumb button to the right of it.  One click equals one vote, and only one vote is allowed per computer.  So have your family, friends, co-workers, the nice barista from your local coffee shop, log on and vote for your story.
Contest winners will be entered to win a free print copy of our Fall Issue: Transformation in October and winning entries will be archived on our website.
Good Luck and Happy Writing!