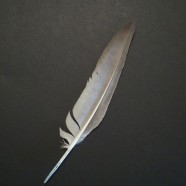 Jan

03
8 comments
Categories
Share This
January Writing Prompt Contest
Congratulations to C.A. Head, the winner of our quarterly drawing.  C.A. has won a print copy of our Winter Issue: Beginnings and Endings. 
Congratulations also to our December Writing Prompt Contest Winners! 
Jessica Hambleton
My chair cost twenty dollars. And I could tell. Waiting for eight hours for news had almost worn a hole in my rear.
I looked again at my cell phone, 6:22 a.m.
The strange thing was that I had somehow known all along that there was something wrong. It was like I could feel what was growing inside of me. But I denied, until I couldn't anymore.
It was my last semester of college. I had done that, at least.
Then my cell phone began to ring. The longest night of my life was about to come to an end. 
C.A. Head
My wife's stare told me she wondered, again, if her father's choice for her mate had been sound. So many times I had begun this journey in search of the source that had been prophesied. My companions and I traveled in silence. The sky was dark and clear. The star hovered above our destination; a clarion call to Peace. I only hoped the gift I brought would fit the magnificence of the occasion. Heaven's light rewarded our efforts and we joined the throngs who marveled at the newborn child. 
The January Writing Prompt is:
To sleep, perchance to dream. ~ W. Shakespeare
The deadline for posting an entry is January 24, 2011.  The deadline for voting is January 31, 2011.
The rules: Write a micro story of 100 words or less based on the prompt as a comment to this post.  You may enter as many times as you like.
Each post will have a thumb button to the right of it.  One click equals one vote, and only one vote is allowed per computer.  So have your family, friends, co-workers, the nice barista from your local coffee shop, log on and vote for your story.
Contest winners will be entered to win a free print copy of our Spring Issue: Place in April, and winning entries will be archived on our website. (Please be sure to include your email when you post your entry)
Good Luck and Happy Writing!