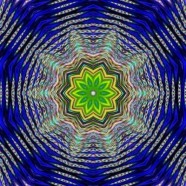 Jan

28
1 comment
Categories
Share This
Inside the Kaleidoscope
Today's post comes from The Quotable contributor Jason Huff. His short story "Her Epilogue" appears in Issue 8: Storytelling.
My writing process is pretty standard: I get an idea (typically flowing from the high setting of the shower head), I write it down on paper, and I stare at it until the words slowly swirl and create a thick black ink.  I peer into this pool like a fortune teller reading tea leaves or peeping into a mirror.  Soon, images appear, scenes are created, characters are born, and I wonder if this was the same process God went through during the pre-production of Creation.
I then write these visions down on paper as aptly as I can, which usually turn out to be as convoluted as Benji's narrative in Faulkner's The Sound and the Fury, only my visions are not intentional or as finely crafted as his stream of consciousness prose. I edit and revise. Shift this paragraph to the beginning, delete that sentence, type and then send it to my two best readers for their input.
Once their edits are considered, I review and revise again. At this point, my newborn story has gone through various stages of life and is gradually becoming a teenager.  It fights with me, bargains with me, begs me not to take things away, promises to be good if I allow it to simply exist as it is. I know that for the most part I can, but there must also be tough love, I have to remove the obstacles that block the growth of this child of mine. This will hurt me more than it hurts you, I assure it.
Reading the final draft, I worry that it isn't good enough and will never be accepted. I worry that I have taken too much out, or have not provided enough detail (or too much). I conclude that my story should be filed on my hard drive in the folder labeled "do not submit," but it contains so much of me that I can't allow it to sit stagnant, suffocating in its room. I take the chance and send it to a magazine as I send my hopes into purgatory's waiting room.
This is my typical experience when it comes to writing and submitting, and I know it is similar to that of many other writers and poets. It is part of the hell of writing, but also part of the thrill. The act of putting pen to paper is extremely cathartic, but the act of submitting can be a very bipolar affair. The anticipation imbeds itself into the subconscious of my daily life; the nervousness of a rejection gently pulls at the edges of my mind while the exhilaration of acceptance tugs at any remaining spaces.
These are the torments we all face, some more than others. These are the angels and the demons that fight for heaven and hell with each new piece we write. It helps to know that we are not alone in the fight. It creates a community of writers, of fighters, of survivors, each sharing their ideas, their best and worst moments – their war stories. These stories will continue, for this is a fight that the passionate know they will not give up. Indeed, for those of us who love our craft so much we are willing to experience this kaleidoscope of emotions, it is a creative process we must continue, lest we lose ourselves.