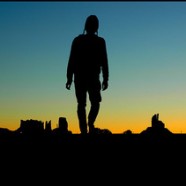 Jul

10
2 comments
Categories
Share This
For Kate
Today's post comes from 
The Quotable
 contributor, Arthur Diamond. 
My story, Out of Time, composed several years ago, will be published in The Quotable's July 2012 issue. The story is set at Fort Clark on the Missouri River in the mid-1800s and focuses on a standoff between the Fort's soldiers and the Assiniboine braves, who demand the return of their quarantined women, infected with smallpox. There are no good choices for either side, and the story in form is a kind of bubbling up, like watching water heating on a stove, ending with the water just coming to boil.
I take this opportunity to share with the reader memories associated with this story; these memories have "bubbled up" in me over the past few days while working with The Quotable's Leslye PJ Reaves to make improvements to the piece.
I recall the spring evening in 1979 when I was thumbing for a ride at the northern skirts of Salt Lake City, the dark settling around me. I hadn't enough money for a motel room and I'd caught a chill. Then came my ride. Kate Martinez, an Assiniboine, and her two young nephews in a nasty old pick-up, brought me in out of the Utah desert. Kate and I hit it off immediately, as people did and still do, thrust together in a warm cab under the night firmament of the great American West. After a couple hours I drove, getting us to her modest rural home in Nyssa, on the Oregon border, at two in the morning. We had black coffee and slices of black bread, which was the only thing in her refrigerator, and I went off to sleep in an adjacent trailer with broken windows. Anyway, I attempted to sleep.  The next day, she and Dell and Bernie drove me, exhausted and sniffling and very grateful, halfway across the state, just to help me on my way. I was headed farther west, to Eugene, to patch up a relationship.
Kate and I corresponded through the Eighties as I settled into familyhood in New York and she grew strong in faith out West but weak in body. Years later, as a young father, substituting in the New York City public schools and writing books for hire, living thin while having not yet decided to take shelter in the corporate world, I took on a textbook project: Smallpox and the American Indians. After the book came out I sent a volume to Kate, who was now in ill health. I don't know quite what I expected her to say about the book but I couldn't not send it to her. I remember receiving her postcard a month later. It offered a few items about her nephews, didn't mention anything about the book, and ended, as all her correspondence did, with an appeal to God to watch over me.
At the end of the Nineties, lodged in my comfortable 19th floor corporate office at the World Trade Center as honcho of a proposal writing team, exuberant on Fridays with my paycheck and in awe every evening of my view of the sunset over the Hudson, I was drawn back to fiction writing, the kind you don't get paid for. I'd have to ride the elevator down to street level once again. Before quitting I plucked this episode from the smallpox book and worked it up and read it on a rainy Sunday in a midtown apartment to a group of fine writers, among whom a guest, flush from the publication of her first novel, quipped "But there's no story to this story." I wouldn't argue the point. I had faith in the bubbling up. While other comments came in I kept glancing out the living room window. In the kitchen of an apartment in a building across the way an older woman was bringing food to a table where a couple of boys sat, their legs dangling. I remember wondering if she was serving them black bread.
Kate's long gone. I have her correspondence, all of it ending with a call for God to look after me, and I have a Polaroid of her somewhere with a grinning Dell and Bernie. The postcards and picture are in our house and I'm pretty sure I could put my fingers on these things. I would just have to remember where to find them.
In my memory, however, Kate is close; she is at arm's length, eyes well-wishing and deep as the night sky.
Photo Credit: Jason Rogers