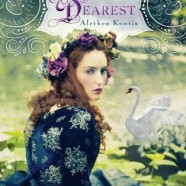 Feb

13
8 comments
Categories
Share This
Fairy Tales Incorporated
A themed tour with Prism Book Tours.
Today on The Quotable, we have a guest post by author Althea Kontis who is on a book AND blog tour for her recently published novel, the third in her Woodcutter sister series, "Dearest." In her post, see how her life and imagination shaped the writing process in a unique way (she uses and twists fairy tales in more ways than you can even imagine!) Learn more about Althea in her bio at the bottom of this post, and be enchanted by her fairytale rants and aspirations, her many books and achievements, and her exemplary presence online and in social media. Enjoy!
I'm often asked which fairy tales I'm putting into the next installment of the Woodcutter Sisters series, or how many I've already included, or which ones are my favorites, or which ones inspire me the most. Rarely do I get the question of HOW I incorporate all these fairy tales into the bouillabaisse that is the Once Upon a Time of Arilland — which is probably a good thing, because it's not a short answer.
In a recent review of Enchanted, Rebecca Hall from Nerdophiles wrote, "This was the story before all of the other stories, and it was the other tales that were changed over time." And she is absolutely right. When I introduce new readers to this series, I say, "Pretend every fairy tale we know and love came from one family, once upon a time." Arilland is that pre-history type of world, and what I am telling is the origin story of ALL the fairy tales.
I grew up in a family of storytellers, my father (just like Papa Woodcutter) most of all. A lifetime of this causes one to think about stories, like how they get better (and more hyperbolic) with every telling. It also causes one to think backwards from extraordinary stories…how might one trip to the grocery store be retold into a fantastic adventure? (How many Hollywood blockbusters have been created from such simple ideas?)
So that's one aspect: Working Backwards. Another aspect I refer to as: The Challenge. When I wrote the short story "Blood and Water" (my retelling of "The Little Mermaid") I forced myself to change my own language to a character that has never walked on ground, never seen fire, never breathed air. I could not use terms such as "cut like a knife" because a mermaid has never seen a knife. My vocabulary, my senses…everything was altered to reflect this character.
Similarly, my Challenge with the Woodcutter Sisters is to write a novel using only fairy tales–fairy tale names, fairy tale objects, fairy tale places. The good news is that I can use just about any fairy tale from anywhere in the world and almost any time (within reason). Even better, many of those stories are very, VERY similar. (If you want to see just how similar, Google "Aarne–Thompson classification system" and you'll see what I mean.) It's so incredibly easy to slide from one of these fairy tales right into another…like when you're telling a story and realize you've accidentally merged the beginning of one memory with the ending of another. Happens all the time, right?
Let me take you through a little of the thought process for Enchanted:
1.) I drove my mother to the airport one day and had an epiphany about Cinderella. I realized that Cinderella was an introvert who spent all her days locked up in the house she cleaned and got very little socialization. She probably had a panic attack at that first ball. The prince, on the other hand, had a ridiculous amount of morel fiber, seeing as he rode away with the wrong woman TWICE, simply because he'd kept his word to marry "whoever fit the shoe." Moreover, the story of Cinderella (the Grimms' version) was mostly about a mother's love for her daughter, and the gifts she bestowed upon her from beyond the grave through her white pigeon messengers (without whom Cinderella and her prince would still be miserable).
I think a lot when I'm driving.
2.) "Cinderella" was always one of my least favorite fairy tales. The "true love" bit never worked for me. A prince sees a pretty girl across a room and dances with her. Big Deal. My Nana tried to explain to me once that "any girl would be thrilled a prince would notice her." Yeah? Why? How is that "true love"? For me, Cinderella only works if she and the prince met BEFORE those balls, but no one knew, so that bit didn't make it into the bards' tales that got passed down through time.
In fact, what if they met before…when he was a frog? That way, HE knew he was looking for her, but SHE didn't know this prince because she'd never met him. As a human. "Cinderella" might still have become the story we know.
3.) Stories get mixed up by people all the time. Seventeen eyewitness reports might get get you seventeen different stories. Maybe SHE picked the beans and did the chores but HE was the one who slept on the hearth in front of the fireplace. Maybe SHE had a godmother but HE had one too. "Cinderella" might still have become the story we know.
4.) And, oh, what the heck…I'm a Lewis Carroll fan…let's mix it up even further. Let's say the prince's Bluebeardish father also suddenly has a reason to get remarried, and uses the balls his son announces to garner himself a new wife…a woman with very powerful fey magic that he can use to live forever. HE sees HER across the room and everything stops and it's not true love at all, but a means to an end.
So that famous scene at the ball was really two DIFFERENT people. But "Cinderella" might still have become the story we know.
…and so on. So that's what I do. I take the logic holes left in fairy tales (if there were really three balls, and the prince found his true love at the first one, wouldn't the rest of the women in the country have tried to kill her before the second?) and I fill in those holes with OTHER FAIRY TALES.
Yes, it's exceptionally challenging, but it's also an incredible amount of fun.
And now you're asking yourself: Just what are the fairy tales in Dearest? Well, there's "The Wild Swans." And "The Goose Girl" and "A Weave of Words" and "Tristan and Isolde" and "Swan Lake"…and maybe a dozen others. YOUR challenge is to find them all!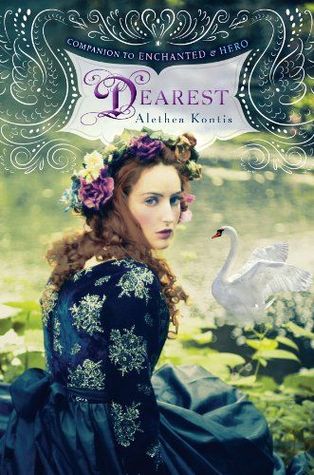 Dearest
(Woodcutter Sisters, #3)
by Alethea Kontis
YA Fantasy
Hardcover & ebook, 320 Pages
February 3rd 2015 by HMH Books for Young Readers
ìA fabulous fairy-tale mashup that deserves hordes of avid readers. Absolutely delectable.î óKirkus Reviews, starred review of award-winning series debut Enchanted
Readers met the Woodcutter sisters (named after the days of the week) in Enchanted and Hero. In this delightful third book, Alethea Kontis weaves together some fine-feathered fairy tales to focus on Friday Woodcutter, the kind and loving seamstress. When Friday stumbles upon seven sleeping brothers in her sister Sundayís palace, she takes one look at Tristan and knows heís her future. But the brothers are cursed to be swans by day. Can Fridayís unique magic somehow break the spell?
The Other Woodcutter Sisters Books
New York Times bestselling author Alethea Kontis is a princess, a fairy godmother, and a geek. Sheís known for screwing up the alphabet, scolding vampire hunters, and ranting about fairy tales on YouTube.
Her published works include: The Wonderland Alphabet†(with Janet K. Lee), Diary of a Mad Scientist Garden Gnome (with Janet K. Lee), the AlphaOops series (with Bob Kolar), the Woodcutter Sisters fairy tale series, and The Dark-Hunter Companion (with Sherrilyn Kenyon). Her short fiction, essays, and poetry have appeared in a myriad of anthologies and magazines.
Her YA fairy tale novel, Enchanted, won the Gelett Burgess Childrenís Book Award in 2012 and the Garden State Teen Book Award i 2015. Enchanted was nominated for the Audie Award in 2013, and was selected for World Book Night in 2014. Both Enchanted and its sequel, Hero, were nominated for the Andre Norton Award.
Born in Burlington, Vermont, Alethea currently lives and writes in Florida, on the Space Coast. She makes the best baklava youíve ever tasted and sleeps with a teddy bear named Charlie.
Check out Alethea's Road Tour†HERE!
3 Woodcutter Sisters Prize Packs (signed copies of Enchanted, Hero, & Dearest – US Only)
Ends March 8th
Follow the February Tour!
1 – Launch
2 – Lilac Reviews
3 – Special post @†Waterworld Mermaids
3 – Coffee Books & Art & The Book Lovers' Lounge
4 – Special post @ USA Today's Happy Ever After
4 – Buried Under Books,†Mommabears Book Blog,†& Rabid Reads
5 – Interview†@†J.T. Ellison
5 – Gidget Girls Reading
6 – Zerina Blossom & Geo Librarian
8 – Welcome to Book City
9 – Kelly P's Blog & Katy's Krazy Books
10 – Mel's Shelves†& Jan Edwards
11 – Katie's Clean Book Collection
12 – A Backwards Story†&†Wishful Endings
13 – Library of a Book Witch†&†The Quotable
14 -†Biggest Literary Crushes post on†@ Teen Reads
15 – The Written Adventure
16 – My Life Loves and Passion†& Colorimetry
17 – I Am A Reader†&†The Library of the Seen
18 – Special post on†@†Teen Reads
18 – Printcess & Living a Goddess Life & Melissa's Eclectic Bookshelf
19 – 100 Pages A Day†&†mrsjennyreads
20 – Books and Ashes†&†Addicted Readers
22 – Miss Little Book Addict YA House of Books
23 – SBM Book Obsession
24 – Deal Sharing Aunt
25 – Min Reads and Reviews
26 – Pieces of Whimsy†& Wonderous Reviews
27 – The Scribbling Sprite
28 – Grand Finale