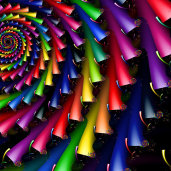 Dec

01
4 comments
Categories
Share This
December Writing Prompt Contest
Congratulations also to Jason Huff, our October Writing Prompt Contest Winner!
Jack was on the brink of attaining nirvana at the time of his death. It was the serrated knife sawing around his head that killed the dream. Jack wanted to scream, but was mute.
"Can I pull everything out?" Jack heard someone ask.
"Sure," a second voice answered.
The scraping started, and soon Jack's gourd was an empty cavity.
"What do you think our pumpkin would say if it could?"
"Surely not 'where there is no imagination, there is no horror'"
"What?"
"It's a Sir Arthur Conan Doyle quote."
"You're so weird, mom. What are we gonna carve this year?"
The December Writing Prompt is:
"One should sympathise with the colour, the beauty, the joy of life." ~ Oscar Wilde
The deadline for posting an entry and voting is December 31, 2012.  
The rules: Write a micro story of 100 words or less based on the prompt as a comment to this post.  You may enter as many times as you like.
Each post will have a thumb button to the right of it.  One click equals one vote, and only one vote is allowed per computer.  So have your family, friends, co-workers, the nice barista from your local coffee shop, log on and vote for your story.  In the event of a tie, the editors will vote for a winner.
Contest winners will be entered to win a free print copy of our Winter 2013 Issue: Storytelling in January, and winning entries will be archived on our website. (Please be sure to include your email when you post your entry)
*All of our writing prompt winning entries will be included in our Summer 2013 Issue.  
Good Luck and Happy Writing!