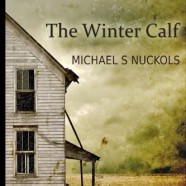 Apr

03
11 comments
Categories
Share This
The Cost of Not Trying
Today's guest post comes from author, Michael S. Nuckols. His first novel, 
Winter Calf
, is now available on Amazon.com.
During my senior year of High School, I remember my friend Sarah asking, "What's your GPA?"  Sarah was smart, competitive, and worked harder than anyone I knew.   She had high hopes of being the valedictorian.  I could sense her disappointment when she realized her average was not even close to mine, especially when considering that she worked so much harder than I ever had.  Nonetheless, Sarah was proud to be second in the Great Bridge High School Class of 1989.
During my first year at the University of Virginia, I took Calculus from a Chinese professor who barely spoke English. I fought for a B.  The next semester, a delightful Englishman who loved quoting Shakespeare taught my Calculus II course. I barely got a C – my worst grade ever. This was the first time in my life that I had truly struggled for success and failed.  I didn't like it.  I fulfilled my math requirements and never took another math course.
Three years later, I graduated with highest honors, majoring in Environmental Science. I received the department's Ecology Award.  Everyone asked me what graduate school I would be attending. Burnt out and skeptical of the financial costs, I decided that graduate studies were not for me. I went back to my parent's home wondering what was next.
After three months of job hunting, an engineering company offered me work as an environmental specialist on Fort Benning in Georgia.  My parents were unhappy that I was leaving Virginia but supportive.  My future husband-to-be, Allen, was inconsolable.   Nonetheless, I had to pay the bills and if the two of us ever wanted a life together, this was the chance.  My work as an environmental specialist would cripple my efforts towards achieving success in my true passion — writing — for the next 20 years.
One of the final courses I took in my fourth year at UVA was a fiction writing class.  My final submission for the class was a short story called The Call of Bubbling Brook.  It was not only well received – but also highly praised.  Like every budding author, I had dreams of becoming a real writer, whatever that means.  Unfortunately, I also had dreams of moving out of my parent's house and finding my own way.  I knew the chances of succeeding in fiction were slim. I feared failure.  Writing became a dream deferred.
My one season playing little league baseball still causes me to cringe 30 years later – and instilled in me a lifelong avoidance of team sports.   Ironically, today, my primary occupation involves site safety – getting others to avoid unacceptable risk, something I've been quite successful at in my life.   Only recently have I realized that my greatest successes in life came from my taking the greatest risks.   Moving to Georgia and then Alaska was fraught with risk, but we found happiness here.  Coming out as gay to my parents and my community has paid dividends many times over.
While cleaning my hard-drive last year, I came across The Call of Bubbling Brook.  I remembered the passion I had when creating it and knew what my life had been missing – writing.  I decided to take what felt to me like a huge risk and expand it into a short novel.   Thanks to the advent of self-publishing, I could realistically make it a goal to not only finish it but also release it for the world to judge.  This time, I wouldn't give up when things seemed hard or the work seemed too sentimental or imperfect.    After a year of intense work, I finished only to face the daunting task of coming out as a writer.
The Winter Calf is now available on Amazon as both a hardcopy and as a Kindle download.   The novel has already been downloaded in not only the United States but also Canada, Great Britain, Australia, France, and Germany.  Whatever the first reviews or sales show, I'm happy knowing that I finished it and can say that I finally pushed myself into an uncomfortable place, putting myself out there for the world to judge.  Whatever happens, I'm happy knowing that I finally tried.