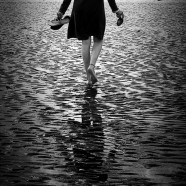 Apr

04
16 comments
Categories
Share This
April Writing Prompt Contest
Congratulations to Armelandliz, the winner of our quarterly drawing.  Armelandliz has won a print copy of our Spring 2012 Issue: Place.  
Congratulations also to our March Writing Prompt Contest Winner! 
Kris
Oh the places you'd go if you hadn't your job
Or your corn on the cob or your doorknob or Rob.
Put your cell phone away.
Off Facebook and play!
Run, get a cramp, and breathe in the sea air.
Cut your foot on a shell.
So it hurts – what the hell!
Feed your soul , run the toll, and meet me at the hole.  
The April Writing Prompt is:
I gave her a million reasons to stay
The deadline for posting an entry and voting is April 30, 2012. 
The rules: Write a micro story of 100 words or less based on the prompt as a comment to this post.  You may enter as many times as you like.
Each post will have a thumb button to the right of it.  One click equals one vote, and only one vote is allowed per computer.  So have your family, friends, co-workers, the nice barista from your local coffee shop, log on and vote for your story.  In the event of a tie, the editors will vote for a winner.
Contest winners will be entered to win a free print copy of our Summer 2012 Issue: Time in July, and winning entries will be archived on our website. (Please be sure to include your email when you post your entry)
Good Luck and Happy Writing!