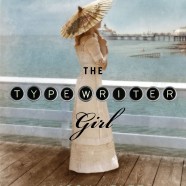 Jul

16
2 comments
Categories
Share This
An Interview with Alison Atlee by Tasha Cotter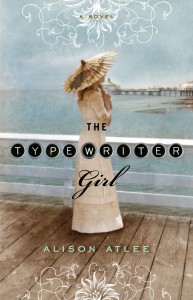 Alison Atlee's
debut novel, 
The Typewriter Girl, 
comes out in January 2013 from Simon & Schuster. The Quotable contributor Tasha Cotter interviewed Alison.
Q: Can you tell us a little bit about the book? You mentioned it was historical fiction. What sparked the idea for the book?
Doing research for a totally different topic, I happened upon an old postcard of a very early version of a roller coaster, the switchback railway at Folkestone, and just knew I had a setting for a new book.
Folkestone isn't the setting for The Typewriter Girl, but Betsey Dobson, the main character, does go to a seaside resort for work. She's a working class city girl who has broken just about every convention society has for a "lady"—she's determined to support herself, sexually experienced, and likely to say, well, just about anything she's thinking. The wealthy, leisured atmosphere of the resort is a shock for her. She doesn't fit in and isn't sure she wants to, even though her hopes for her future require her to make some kind of peace with it.
Q:Tell me a little bit about how this book found its way into the world—what was the process of finding an agent and editor like for you?
I'd had an agent for a previous novel and decided to part ways with her while I was working on The Typewriter Girl. Much angst preceded this decision—it had been a prolonged process of torture to find an agent, and it felt crazy to go back to square one.
After that decision, though, I didn't feel crazy or angsty; I felt relieved and knew it was right. I was prepared for another long querying process, so when Emmanuelle Morgen contacted me early on, it was a happy surprise.
One way I was blessed here was to find an agent willing to work with me on revisions. Granted, that didn't always feel like a good thing, but when the manuscript finally went out on submission, it sold pretty quickly (at least much sooner than I expected) to Abby Zidle at Gallery/S&S.
Q: Do you tend to read a lot of historical fiction? I feel like this is a genre, I, personally, don't know as much about as I should. Who are some of your favorite writers in the genre? I'd love a great recommendation.
For me, historical fiction offers an additional layer of storytelling. Sure, all stories use time and place, but to be taken the extra distance from the familiar in the particular way an historical can do is very pleasurable to me as a reader.
I'll come up with different lists every time I'm asked for favorites, so what are you in the mood for? All the grit and drama of an age? I might say C.W. Gortner or Sheri Holman or Philippa Gregory. Poetic prose and lots of food for thought? E.L. Doctorow or Geraldine Brooks are a couple. Sheer delight? Laura Kinsale would be a good start.
Q: For The Typewriter Girl, what was your relationship to true events as you were writing this? Was the grain of this idea a real event that you worked to transform? Tell me a bit about the intersection between truth and fiction as you were writing this book.
Not a single event, no, but trends—particularly this boom in pier-building and seaside holidays for the middle and working classes in late-Victorian Britain. While the upper classes had long made seaside visits, "going on vacation" wasn't a reality or even a dream for most people until cheaper train fare made it possible. People could join inexpensive group excursions, and employers would host outings for their workers.
In The Typewriter Girl, one source of tension is the way the social classes meet at seaside—the lower class is coming to have fun, not to work or serve their "betters." Which confuses the "betters," naturally.
Q: I know you are at work on a new novel—one that's set in a dramatically different era. I imagine that historical accuracy is really important—what sources do you go to when you are trying to get the details right for a current project?
It depends on the stage I'm in with a book, really. At the beginning, I'll use secondary sources for kind of the "grand view," and then work my way to travel journals and letters and other primary sources. I love Google Books and Maps, and I've e-mailed with scholars and passionate hobbyists. I'm also writing about places where I've traveled.
I also keep a running list of words I know or suspect to be too contemporary. Researching those is something I look forward to for a couple of reasons: it's a sign that I'm almost finished, and it means I get to re-activate my subscription to the on-line OED!