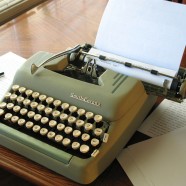 Jan

31
63 comments
Categories
Share This
All Good Things Must Come to an End
Dear readers and contributors,
Five years ago we came together as four friends from a writing group with the idea of starting a literary journal. We had no way of knowing at the time if anyone would ever submit or if anyone other than our parents would ever read it.
The response from our submitters and readers, almost from the start, has been wonderful and overwhelming. We've been so lucky to have the chance to publish such wonderful short stories, poems and artwork. We so enjoyed working with all of our contributors.
Over the years, we have worked with so many talented guest editors and interns who have volunteered their time to reading and editing submissions. This has never been a monetarily profitable endeavor for us, but the reading of great works of art and the pride we have put into each issue has been more than enough of a reward.
Recently, though, we have all thought that it is time for this great experiment to end. We don't have the time to give it the attention it deserves, and so it is with regret that we inform you that Issue 21 will be our final issue. The theme, appropriately, will be "Finale" and we look forward to reading all of your submissions for one last, great issue.
Sincerely,
The Editors