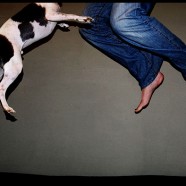 Jan

09
4 comments
Categories
Share This
A Man Brings Home a Dog
Guest post by The Quotable contributor Alice Lesch Kelly. Her short story "Good Girl" appears in Issue 8: Storytelling – out later this month.
I sat down to write a short story one morning last fall. I don't remember the date or the weather, but I do recall one thing very clearly: I had no idea what my story would be about.
I brainstormed for a while, but nothing came of it. I read the newspaper, hoping a current event would trigger an idea. It didn't. Then I drifted around online, checking out writing websites, hoping I'd be struck with spark of inspiration. I wasn't.
Still, I was determined to start a short story that day. I am a health writer, and I had just finished a long book. During my sliver of down-time between projects, I wanted to write a short story.
Somehow I ended up at a website that featured lists of writing prompts. Let me tell you: I never use writing prompts. They're fine for beginners—I make the students in my creative nonfiction class use them—but as someone who has made her living as a writer for 28 years, I don't need random generic phrases to get my imagination going.
I read one dumb prompt after another. Then, feeling irritated and dull, I took a break. My mind churned as I showered, walked the dog, emptied the dishwasher, did a load of laundry. But back at my desk an hour later, I still had no ideas.
Again I started trolling around on writing websites, searching for inspiration—and again I kept knocking into writing prompts. One site even had a gizmo that spit out computer-generated word combinations. "A something does something." "A something else does something else." I clicked and clicked, rejecting one idiotic subject/verb pair after another.
But then, amazingly, one of the prompts ignited a spark.
I stared out the window for a few minutes, letting my imagination take over. Gears in my brain cranked. Blurry images formed. Shadowy characters emerged. A conflict began to take shape. On the empty whiteness of my computer screen, I wrote the prompt:
A man brings home a dog.
As fast as I could type, "Good Girl" poured out. I wrote and revised, wrote and revised. Details changed, characters evolved. But at the center of it all, the idea behind the prompt remained. A man brought home a dog. Eric brought home Sophie, and lives changed.
"Good Girl" taught me a couple of important lessons. One was that I should use writing prompts—no shock there. More importantly, I realized that if I want to grow as a writer, I should take a step back and challenge some of my other long-held assumptions about writing. I tried that recently when I jumped out of my literary comfort zone and read the crime thriller Defending Jacob by William Landay. I had never thought much of crime thrillers, but Landay's page-turner surprised me: Not only did I enjoy it, but I learned a few things about plot development that I can apply to my own work.
That little writing prompt turned out to be a huge gift. Thanks to those six words, I tried something new. A man brought home a dog. A woman wrote a story. And after 28 years as a nonfiction writer, I fulfilled a lifelong dream and published my first piece of fiction.