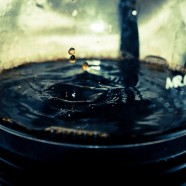 Sep

17
1 comment
Categories
Share This
Another Year, Another Reading
Today's post is by 
The Quotable
 contributor Jim O'Loughlin, who's story, "Not Full," will be featured in Issue Seven: Feast or Famine. 
Students who haven't been to the series before come into the room quietly and tentatively take seats toward the back of the room.  Regulars drift in later, stopping to glance at the new art exhibit before walking back to where the reading will take place.  The coffee is ready when I arrive, but I've forgotten the piece I'm planning to read and have to race back home.  But I make it back in time.  Everything is fine, and I wonder what it will be like this month.
Since 2001, I've hosted the Final Thursday Reading Series in the college town of Cedar Falls, Iowa.  It takes place at the Hearst Center for the Arts in the former house of poet James Hearst.  The series features regional authors preceded by an open mic.  It's become such a regular part of my life that the last Thursday of the month wouldn't feel the same without my frantic efforts to finish a piece for the open mic.
That said, I've also come to appreciate that every month is different.  Sometimes there's a huge crowd, but other times there are plenty of available seats.  Some months so many open mic readers sign up that I have to start early and stare down poets considering "just one more poem."  Other months, I realize there won't be enough readers to fill up the first half of the night, and I have to arm twist a writer friend who thought he or she was just coming to listen.
On this day, there are a handful of open mic readers and a pretty decent crowd for this early in the school year.  Crowds build through the semester as extra credit opportunities become more necessary for students.  The non-University audience is harder to predict, making it is almost impossible to guess how much coffee to brew.
The open mic goes smoothly.  There's a mix of regular readers and a couple new faces, and the styles and content are similarly varied.  I've gotten used to the juxtaposition of one poet's touching remembrance of his deceased mother right next to another's laugh-out-loud account of working as a waitress in a country club.  But I wonder what the people new to this format make of it.
This month's featured reader is Larry Baker, a novelist from Iowa City with a great new book, Love and Other Delusions.  It's an intense psychological book about a couple that never should have gotten together and then remained involved for years.  Larry has read at the series before, and he has a deep, resonant voice that really holds a room's attention.  He reads a scene that takes place in a movie theater, combining cinematic technique with erotic tension.  We're all listening attentively.
After Larry's reading and the Q&A, it takes a long time for the audience to leave. People want to stick around and milk the experience for a little more.  Larry is gracious about personalizing copies of his book and talking with people about the books they want to write.  It's been a good night.  People mill around the book table, thinking that maybe next month they'll buy a poetry chapbook. In fact, maybe next month they'll read a poem.  There's always next month.
Photo by: porschelinn